One of the strongest Pokémon is now available to many for free.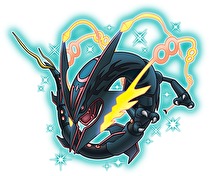 A Shiny Rayquaza is being distributed to Pokémon Omega Ruby and Alpha Sapphire owners.
This Rayquaza comes with the move Dragon Ascent which allows Rayquaza to Mega Evolve making it easily one of the most powerful Pokémon in the history of the franchise. Details on how to obtain this Legendary Pokémon in each region can be seen below.
North America: To get Rayquaza, players will just need to access the Mystery Gift option from the game's main menu, then select Receive Gift, then Get Via Internet. It's available now and will be distributed until Sept. 14th.
UK: Players can get Rayquaza from Smyth Toys from between Aug. 24th and Sept. 20th.
Germany: Rayquaza will be given out at a currently unspecified retailer between Aug. 31st and Sept. 28th.
Australia: Rayquaza will be distributed at EB Games between Aug. 10 and Aug. 31st.