That retro bundle isn't just a Gamestop offer.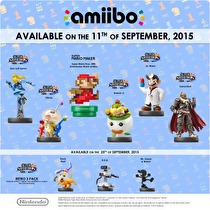 Nintendo has sent a press release to confirm the release dates for several Amiibo, and the wave is getting broken up a bit.
The next round of Amiibo will launch day and date with Super Mario Maker, and will include the 8-bit Mario Anniversary Amiibo, Zero Suit Samus, Captain Olimar, Ganondorf, Dr. Mario and Bowser Jr. The Retro 3-pack (Duck Hunt, R.O.B and Mr Game & Watch), previously thought to be Gamestop exclusive, will launch on the 25th, while no mention was made of the Amiibo being sold separetely.
The Mii Fighters, which were originally scheduled to come out in September, have been pushed back to November and will be sold as a bundle as well. Lastly, the "Modern Colors" Mario Maker Amiibo will have details announced at a later date.