The first financial quarter is a success thanks to kids and squids.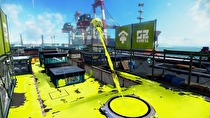 Nintendo has released their financial results for the 1st quarter of the fiscal year, and it's a profitable one.
Nintendo brought in profit of 8.3bn yen in the quarter (US$67m, all figures rounded), on the back of a slight operating profit of 1.1bn yen (US$9m) and 90bn yen (US$729m) in revenue. This was ahead of analyst expectations according to Nikkei, who had estimated a 125m yen loss.
The big driver was Splatoon, which sold 1.6m units worldwide as of the close of the quarter June 30. The 3DS family sold 1.01m units and 7.92m units of software in the quarter while the Wii U sold 470k units worldwide along with 4.55m units of software. The projected numbers for the fiscal year remain the same: 7.6m 3DS units with 56m 3DS games sold, and 3.6m Wii U systems with 23m units of software.
Digital sales for the quarter were 12bn yen (US$97m), while Mario Kart 8 is now at 5.43m sold, Pokemon XY and ORAS are at 13.99 and 10.27m respectively, and the two versions of Smash Bros have sold 7.04m and 3.83m units (3DS and Wii U).