You can get it from the Nintendo Network, but the window is only open for a short time.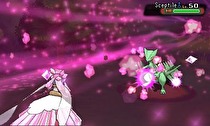 Pokémon Omega Ruby and Alpha Sapphire players in North America and Europe will get a second crack at a Mythical Pokémon.
Diancie, the Rock/Fairy typed legendary Pokémon, will be available via a internet Mystery Gift from Friday July 24 to Monday July 27. It will come at Level 50 and will earn its Mega Stone if you bring it to a Pokémon Center after receiving it.
In North America, Diancie was previously available through a serial code at GameStop stores in late October of 2014. Note that the distribution will not be available for Pokémon X and Y versions.