A choice that may make your version selection easier or harder.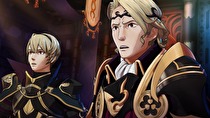 Fire Emblem Fates will feature the option for same-sex marriages.
Following the discovery of an "A+" social rank in the game's Japanese release, Nintendo issued a statement to Polygon confirming the option: "We can confirm that Fire Emblem Fates for Nintendo 3DS, which launches in Japan on June 25, 2015, and is coming to the U.S. and Europe in 2016, includes the possibility for a same-sex marriage to take place between the main character created by the gamer and another character in the game."
The Birthright version of the game, which follows the Hoshino storyline, will allow a female main character to marry a female character, while the Conquest version's Nohr storyline will allow a male avatar to marry a male character. The third, downloadable version of the game will feature both of the characters that can achieve the A+ relationship.