The host, the eight invited guests, and another game were all confirmed.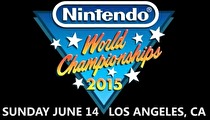 Nintendo has provided some more details about this Sunday's Nintendo World Championships in a video posted on their Youtube channel.
The second announced game for the championship is Splatoon, which according to the video is the first time the game has been played in a live tournament setting. Kevin Pereira, former Attack of the Show/Let's Ask America host, and currently of Hack My Life on U.S. cable network TruTV, will be hosting the event in Los Angeles.
The invited eight players were also announced:
Speedrunners Sinister1, Cosmo, Bananas, Trihex, Essentia
NES completionist TheMexicanRunner
Smosh Games host Jovenshire
Game Grumps host Arin
Justin Flynn, Andre (Black Nerd Comedy), and djWheat will call the action live from the Microsoft (previously Nokia) Theater starting at 3pm Pacific / 6pm Eastern on Sunday, with the previously announced pre-game show with the Treehouse starting 25 minutes before.