Gotta go fast to hype those new Olympic sports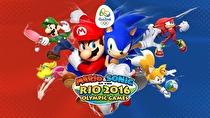 As is now a tradition, Mario and Sonic characters will cross over in the world of sport for next summer's Olympics, as Mario and Sonic at the Rio 2016 Olympic Games was announced for both Wii U and 3DS today.
Among the sports shown in the Nintendo Direct video were the new Olympic sports of rugby sevens (shown on Wii U) and golf (3DS), as well as soccer, rhythmic gymnastics, beach volleyball and the traditional 100m dash. Several new characters have joined up, with Nabbit, Diddy Kong and Birdo on the Mario side and Rogue the Bat, Jet the Hawk and Zazz on the Sonic side.
No release date was given for the games in the video.