Ever wonder what Capcom teaming up with From Software would look like?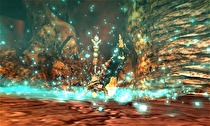 The Monster Hunter franchise will continue to grow as two new games were announced at a Monster Hunter event in Japan and during today's Nintendo Direct.
The first to release is Mon Hun (Monster Hunter) Nikki: Airū Mura DX, a sequel to a 2010 Japan exclusive PSP game that features directing the Felynes to complete missions. As with the original, Airū DX is developed by From Software, the developers of the Souls games and recent PlayStation 4 exclusive Bloodborne. Airū DX will release in Japan on September 10.
The other announcement is Monster Hunter X (pronounced cross). A winter 2015 release, Monster Hunter X runs on the engine used for 4 Ultimate but has a different combat system and elements of previous Monster Hunter games. As of yet, there is no word about localizations for either game.