Sadly not made of actual metal to bash scalpers with.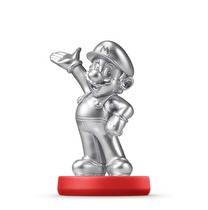 Nintendo has announced that the rumored Silver Mario Amiibo will launch in North America on May 29.
A part of the Mario series, the specially designed Amiibo will launch at "all participating retailers and their online stores". The metallic Mario joins the Splatoon series and Wave 4 of the Smash Bros series in launching on Splatoon day.
Some retailers, most notably Amazon Canada, have already opened their preorders.
Update 11:10am EDT: GameStop will NOT be taking preorders for this Amiibo.