Spoilers: Zelda Wii U is now "TBD".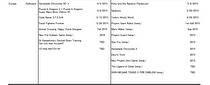 Nintendo's annual report included supplemental information showing the company's release plans for the next fiscal year.
The key information is that as previously announced, Zelda Wii U's release date is now showing "TBD" for all territories, similar to Shin Megami Tensei x Fire Emblem for Wii U. On the 3DS front, Yokai Watch also has the TBD designation along with the European release of Dr Kawashima's Devilish Brain Training. Curiously, Project Giant Robot is still showing a "First Half 2015" release date in North America and Europe.
The third party release list is heavily skewed toward independent titles, with only one listed 3rd party release on the list (Lego Jurassic World) for the Wii U.
The full list for North America is posted below, with Europe and Japan in the pictures: