Let's tap, let's tap, retro tapping game.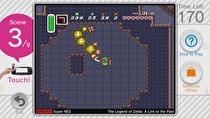 Updated at 11:45ET with additional details and Canadian pricing where applicable.
It appears to be a quiet week on the new game front for the Nintendo downloads. Wii U gets decidedly retro with Amiibo Tap and Paper Mario, and sadly one cannot call the other. On the 3DS side, it's a return to shooter heaven as Circle brings us Karous - The Beast of Re:Eden, the newest entry in a vertical shooter series that actually showed up in the Ultimate Shooting Collection on the Wii. The hype train for Puzzle and Dragons continues as well, as the demo for the Super Mario edition launches.
Also, a couple of small public service announcements: Today is the last day for North American Club Nintendo members to claim Gold/Platinum rewards, so if you're waiting for the last minute, this would be it. While at Club Nintendo, you can also cash in 250 coins if you still have them to get today's VC release for $2 instead of $10.
Wii U Download Software
Amiibo Tap: Nintendo's Greatest Bits (free: requires Amiibo)
3DS Download Software
Karous - The Beast of Re:Eden (US$6.99/C$8.79)
My Horse 3D - Best Friends ($4.99)
Heart Beaten ($2.99)
Wii U Virtual Console
Paper Mario (N64) ($9.99: eligible for $2 upgrade)
3DS Demos
Puzzle and Dragons: Super Mario Bros Edition
Wii U DLC
Star Wars Pinball: Heroes Within $9.99 and Star Wars Rebels $2.99
Themes
Monster Hunter 4 Ultimate - Weapon's Gallery (May 1 - July 1)
Sales and Price Drops
Shin'en is holding a sale on all of their games through May 21.
Shin Megami Tensei IV is $14.99 (from $29.99) from May 4 - 11.
Zacsia's Last Stand is $0.69 (from $1.99) until May 14.
Kung Fu Rabbit (both Wii U and 3DS) is $1.49 (from $4.99) until May 7.
Little Orbit games (How To Train Your Dragon 2, Young Justice Legacy, Monster High:13 Wishes) are on sale from May 1 - 31.
RCMADIAX titles are up to half off until June 24.
TNT Racers - Nitro Machines Edition is $4.99 (from $7.9) until May 14.
Circle Entertainment titles are on sale until May 21.
Joindots games are on sale until May 14.
Tiny Games - Knights and Dragons is $1.49 (from $2.99) until May 14.
AeternoBlade is $7.99 (from $14.99) from May 1 - 17.
Winter Sports: Feel The Spirit is $5.99 (from $8.99) until October 1.