In fact, The Fullbright Company isn't working on console ports at all.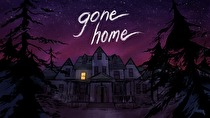 The hit PC indie game Gone Home is no longer in development for Wii U or any other consoles, The Fulbright Company has confirmed.
In a livestream hosted by Kinda Funny Games, The Fulbright Company co-founder Steve Gaynor explained: "At this point, unfortunately, I have to acknowledge that Gone Home for console is not actively in development any longer.
"That deal with Majesco has sadly come to an end. So, we don't really know what that means for Gone Home for console for us. In the immediate term, it's no longer a going thing."
Whether or not it will ever come to Wii U remains up in the air, but right now, it doesn't look like Nintendo fans will get a chance to play the story-heavy adventure game anytime soon.