And that number is only going to grow next month!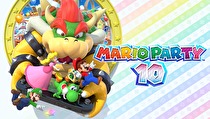 Global sales of the Mario Party franchise have surpassed 39 million copies, Nintendo has announced.
"Mario Party 10 is the first Wii U instalment in the revered Mario Party series, which since its debut – Mario Party – on Nintendo 64 in 1999 has sold over 39.6 million copies globally," the company said in a post on its website.
The latest entry in the series will be coming exclusively to Nintendo's tablet-centric console next month, and features a number of exciting new additions, including a Bowser Party mode. For more on Mario Party 10, check out our hands-on preview.