Want to play iOS games on your 3DS? No? Well you're getting them anyway!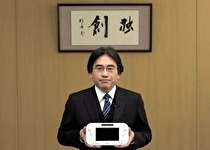 Nintendo president and CEO Satoru Iwata believes there is room for Wii U to grow in the months to come.
With major releases like a new The Legend of Zelda and Xenoblade Chronicles X, the Nintendo boss is confident this year will be a promising one for its home console. "I believe the Wii U business still has considerable room for growth, as a number of software titles that are compatible with the console are slated for release in 2015," Iwata told Nikkei.
With regard to the future of 3DS, Iwata sees smartphone games as a great way to build out the handheld's library and extend its life. "It is also possible to turn smartphone games from other software makers into 3DS-compatible games and offer them for relatively low prices. We intend to pursue a variety of options. Only those products and services that receive strong support from customers will survive."
Do you see a bright and promising future for Wii U and 3DS? Should Nintendo think about releasing new hardware sooner rather than later?