Something tells me Link won't be a silent hero this time around.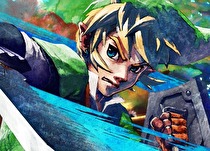 A television series based on The Legend of Zelda is reportedly in the works at Netflix.
The Wall Street Journal has heard from a "person familiar with the matter" that the alleged series will be a full-blown live-action production that aims to be like a family-friendly version of Game of Thrones.
As one would expect, the popular streaming service is working closely with Nintendo in the show's production. After all, this is one of the Big N's most prized and recognizable franchises.
Neither Netflix nor Nintendo have commented on the matter, so we'll have to treat this as rumor for the time being. That said, sound off in the comments below and let us know whether or not you'd like to see a live-action adventure in Hyrule.