You had me at LEGO T-Rex.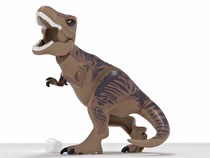 A teaser trailer for LEGO Jurassic World has gone live today, showcasing the characteristic LEGO humor one might expect from this upcoming summer title.
Beginning with the classic water ripple from the original film, the trailer shows LEGO's take on the infamous T-Rex's iconic roar. Be sure to give it a look below.
The game will cover events from the original three films plus this summer's new addition, Jurassic World. While no in-game footage has been revealed yet, we do know the title will feature key scenes and action sequences from the films, and will also let gamers play as dinosaurs and create their own custom species from the special amber they collect.
Jurassic World will release on all major gaming platforms and is being developed by LEGO veteran TT Games.