A shiny new Toad Amiibo means shiny new Toad challenges!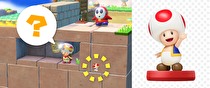 Captain Toad: Treasure Tracker will be gaining Amiibo support on March 20, the same day as the Toad Amiibo launches.
While Nintendo didn't go into detail during this morning's Nintendo Direct, they announced that if you scan the Toad Amiibo, you will unlock new challenges within the game involving finding a small 8-bit Toad sprite.
It is unclear if these sprites will appear in every stage, or if any other Amiibo will be compatible, but we will update this story once we find new information.