Make sure you get your Fire Emblem Amiibo so you can play as Marth, Ike, and more in the upcoming 3DS RPG.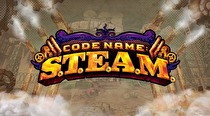 Amiibo support has been confirmed for Code Name: S.T.E.A.M in which you can play as classic Fire Emblem characters.
Using the 3DS Amiibo support, putting the Marth, Ike or Robin statues will allow them to be playable in the game. However, if they die during the course of battle, they won't be able to be revived.
Code Name: S.T.E.A.M will be available March 13 in North America and May 19 in Europe.