Move over Smash Bros., the newest line of Amiibo focuses on Mario and friends and will work with Mario Party 10.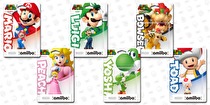 A new line of Super Mario Amiibo have been announced for use in current and upcoming titles.
Mario, Peach, Yoshi, Bowser, Luigi and Toad will be a part of this upcoming line due for release on March 20. These can be used in both Smash Bros. games in place of their other Amiibo figurines. All of these figurines, along with Rosalina and Luma, will be playable in Mario Party 10, with new boards and game pieces being available with the new figures.
The Toad statue will also be able to be used in Captain Toad: Treasure Tracker, which will unlock a 8 bit inspired mini game that will be included in an update also on the 20th.