Play the Zelda remake on a New 3DS fit for Termina.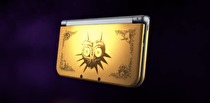 Along with the standard model, a Majoras Mask 3DS XL has been announced as well for a Feb 13 release.
The system will release the same day as The Legend of Zelda: Majora's Mask 3D releases in North America, as well as the other New 3DS models.