Get ready to do the Kooloo-Limpah dance.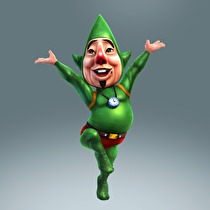 New Hyrule Warriors DLC content has been revealed, including two new characters, Tingle and Young Link, and a new Adventure Mode Map.
Each character has their own unique attacks. Tingle uses balloons along with a bag of Rupees. Young Link attacks with his Kokiri sword and can also use his Fierce Diety Mask to transform into a more powerful version of himself. The new Adventure Mode Map looks to be inspired by Majora's Mask.