CoroCoro leak reveals new movie and distribution event details.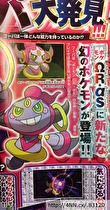 New images and details from CoroCoro magazine on the next major Pokémon film have been leaked through the Anime News Network.
The newly announced psychic ghost Pokémon Hoopa will make its first appearance in the film, titled Ring no Chōmajin Hoopa (The Ring Genie Hoopa). The film will be released in Japan this summer.
A special power in Hoopa's rings was mentioned in the magazine but details were scarce. The Pokémon appears in the Omega Ruby and Alpha Sapphire games for 3DS, but not through normal play.
The magazine also announced a Pokémon distribution event at the World Hobby Fair held in Nagoya, Tokyo, Fukuoka, and Osaka between January 18 and February 8. Attendees can receive a shiny level 70 black Rayquaza with the moves Dragon Pulse, Thunder, Twister, and Extreme Speed.