The popular mobile game is getting a Mario skin and release on 3DS.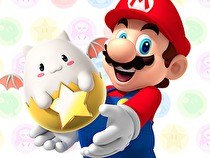 GungHo Online Entertainment has announced that its popular Puzzle & Dragons title is getting a Super Mario Bros. version.
The game, formally dubbed Puzzle & Dragons: Super Mario Bros. Edition, will release on 3DS in Japan on April 29 and be priced at 4000 yen. It features a world map inspired by the New Super Mario Bros. series and retains the tried-and-true Puzzle & Dragons gameplay, just with Mario characters.
There's no word on when or if the game will be making its way to North America or Europe, so stay tuned for official confirmation from Nintendo.