Lace your boots (or your busters!) up for this week's selection of downloads!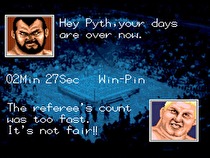 Not much to go on this week. A lot of Nindy titles, including Meme Run is out today on the Wii U. Cool story, bro. There's also a couple of Virtual Console games out today, including Mega Man Zero, which is sure to get Mega Man fans in a tizzy. Or maybe just Zero fans. Maybe there's a Zero fanbase I just offended by lumping him into the Mega Man series. I mean, the games are technically Mega Man games, but maybe I should just be quiet. There's also Natsume Championship Wrestling, a game I didn't know existed until a few months ago. Out of all the companies to do a game based on All Japan Pro Wrestling (names and likenesses have been changed, but still) I didn't think it would be Natsume. Nor would I have ever imagined it would actually be released stateside. But now that it's out on the Virtual Console, everyone can enjoy Kenta Kobashi taking on Toshiaki Kawada! Or um, Conan taking on The Viper...
Wii U Downloads
Cake Ninja 3: The Legend Continues
Wii U Virtual Console
Natsume Championship Wrestling
Nintendo 3DS Downloads
Asterix The Mansions of the Gods
Sales
The Nintendo 3DS and Wii U eShops are celebrating Mega Man's anniversary by offering up to 50 percent off select Mega Man games until 8:59 a.m. PT on Dec. 22.
Art of Balance, Nano Assault Neo and many more games from Shin'en on Wii U and Nintendo 3DS are on sale until 8:59 a.m. PT on Jan. 14.
SteamWorld Dig is 50 percent off on Wii U and Nintendo 3DS until 8:59 a.m. PT on Jan. 1.
Little Inferno is more than 50 percent off (reduced from $9.99 to $4.99) until 8:59 a.m. PT on Jan. 1 in the Nintendo eShop on Wii U.
1001 Spikes, VVVVVV and other fun games from Nicalis are on sale starting at 9 a.m. PTon Dec. 19 until 8:59 a.m. PT on Jan. 5 in the Nintendo eShop on Nintendo 3DS.
Demos
Art of Balance
Cube Creator 3D
Urban Trial Freestyle