With the arrival of the New Nintendo 3DS, the previous model's end is imminent.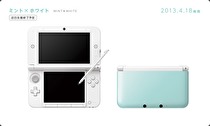 Nintendo will end production on its line of regular 3DS XL (or LL in Japan) handhelds very soon. This was revealed on the company's Japanese website earlier in the week.
All the color variations: Mint White, Black, Blue Black, Pink White, Red Black, Silver Black and White will no longer be manufactured. All the other versions of the standard Nintendo 3DS XL have been discontinued already and will not return.
The move does not impact the availability of the original Nintendo 3DS, of which five colors are still widely available. What this means for the West is another topic of discussion, and we will update the story if we hear more.