Without a prior warning, these are now available for you to purchase!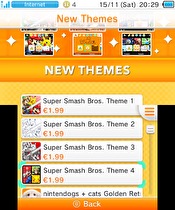 Eight new themes appeared out of nowhere on the European version of the Nintendo 3DS Theme Shop. This came after an inspection on the shop today.
Europeans will be able to get their hands on four seperate Super Smash Bros. themes as well as four Nintendogs + cats ones. The Smash themes have all different music from the Nintendo 3DS game, but the Nintendogs set is different in that regard. They all feature the same song, which is ''Going For a Walk''. Pictures from the Theme Shop are included with this article.
All the Nintendo 3DS themes in this update will set you back €1.99/£1.79 each.