You may want to consider investing in a Peach amiibo, Mario Kart 8 fans.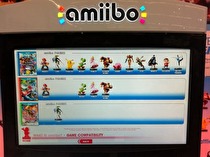 The game compatibility list for Nintendo's lineup of amiibo figures has apparently been outed, revealing new information on which figures will work with Mario Kart 8.
According to a photo taken of a demo kiosk, the Mario, Peach, Yoshi and Donkey Kong figures will all be compatible with Nintendo's Wii U-exclusive kart racer. Additionally, the image reaffirms that the Link amiibo will be compatible in Hyrule Warriors. On top of that, outlines for Bowser, Pikmin and Tom Nook allegedly appear on the in-store video.
The kiosk also confirms that Mario, Peach and Yoshi will work with Mario Party 10, with the green dino also being compatible in Yoshi's Woolly World. Naturally, there is also a long list of supported figures for Super Smash Bros. for Wii U, but we already know that all of the figures revealed thus far will be compatible with Nintendo's upcoming brawler.
Stay tuned to Nintendo World Report for more information regarding amiibo compatibility as we near its November 21 launch. In the meantime, be sure to check out our Amiibo Collectors Guide.