Yes, a new physical reward is finally here.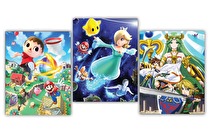 A new Super Smash Bros. three-poster set has been added as a reward to the North American version of Club Nintendo for 700 Coins.
The poster set is based on the character artwork for Villager, Palutena, and Rosalina & Luma, all of which are newcomers to the Smash Bros. series.