Their biggest statue yet!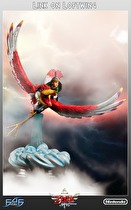 Link on a Loftwing is now available for pre-order from First 4 Figures. The statue is the first in the Skyward Sword line, so those wishing to secure low production numbers throughout the series should order quickly as they are given out on a first come first served basis.
Link on a Loftwing also happens to be the largest statue ever produced by First 4 Figures at 26" x 22" x 25". The figure is limited to 2,500 pieces, costs $459.99, and is due to ship in the second quarter of 2015.