Watch out for those ramps!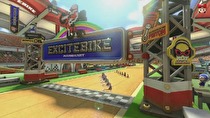 Excitebike Arena will be among the first batch of downloadable tracks coming to Mario Kart 8, Nintendo has just confirmed.
The track itself will feature a dynamic element, as the location of its speed boosts and ramps will change with every new race.
Excitebike Arena will join the previously revealed Yoshi's Circuit and Wario's Gold Mine in the first of two confirmed add-on packs coming to the Wii U-exclusive racer. You can pre-order each DLC pack for $7.99 or buy both for $11.99. The first pack will be available next month, while the second is set to launch sometime in May 2015.
We already got a look at this track earlier in the year when Nintendo first announced the DLC; however, now we can say with certainty that Excitebike Arena will be part of the first wave of DLC, which is just weeks away from release.