Putting it on the eShop is just too easy.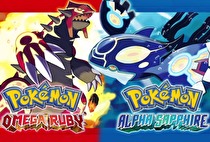 Apparently Nintendo really enjoyed the early demos they gave away for Smash Bros. 3DS, because they're doing it all over again. To build hype for the upcoming release of Pokémon Alpha Sapphire and Omega Ruby, Nintendo is distributing a free, though somewhat hard to get, early demo. Unlike the Smash Bros. demo, Nintendo is offering six different ways to acquire the new Pokémon demo.
1. Go see a movie. Nintendo will be giving out codes at select cinema locations from November 7th to November 13th. (The list hasn't been announced as of this time.)
2. Retailers will be given codes to distribute as prizes for giveaways throughout the holiday season.
3. When you buy Pokémon Art Academy from Nintendo eShop on your Nintendo 3DS or 2DS system, a code will be included with purchase.
4. Don't want Art Academy? No problem, codes will also come with two Pokémon games coming to the Virtual Console. Pokémon Puzzle Challenge and Pokémon Trading Card Game will each come with a code.
5. If you're lucky, Nintendo might just send you a code. During the week of October 31st, Nintendo will email out codes to a select group of Nintendo Network IDs who have opted to receive promotional emails from Nintendo.
6. Finally, codes will be distributed throughout the holiday mall tour at sixteen different locations. The tour runs from November 24th to December 21st. Nintendo says they will be announcing specific tour locations shortly.