Warning: Spoilers for demo ahead.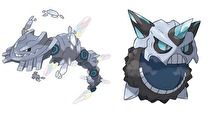 Both Mega Steelix and Mega Glalie have appeared in the Pokémon Omega Ruby and Alpha Sapphire demos, out now in Japan and Europe. Mega Steelix is reported to gain the Sand Force ability and Mega Glalie boasts the skill Refrigerate and is a pure Ice-type.
The OR/AS demo starts off by sending players to an island where Team Aqua and Magma are looking for the two. Which Pokémon it is appears to vary by location: Steelix in Japan and Glalie in Europe and Korea. There are five different island layouts to play through, each one containing a random set of Pokémon and giving trainers a variety of tasks to complete in order to get items that will be transferable to the full version upon release. Playing through multiple times will net players more and more different items and experiences.
Pokémon fans in North America have until October 20 to sign up in order to receive a demo code.