Best-selling indie platformer is coming to Nintendo's console.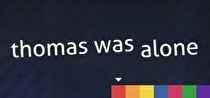 Curve Digital announced today that indie platformer Thomas Was Alone will be coming to Wii U in November 2014. Although originally created and developed by Mike Bithell, Curve was responsible for developing PS3 and Vita versions of the game and will be reprising their roles as developers of the new versions for Wii U and other consoles.
Jason Perkins, Curve Digital's Managing Director, said: "Thomas Was Alone came to PlayStation right at the start of their campaign to make console development more appealing to smaller developers. Since then, indie games have become a much larger part of the landscape for all major platform holders. It's exciting to be working with Mike again and to be able to bring the title to even more gamers..."
The 2D puzzle platformer released originally on Steam in July 2012 to generally favorable reviews and has since released on several other systems. Selling over one million copies worldwide to date, it is considered one of the best selling indie games on the market. Thomas Was Alone will be available on all formats for £6.99 or $9.99.