The big news came via the first Nintendo Direct Australia.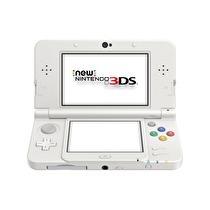 The recently unveiled New 3DS and New 3DS XL models are set for release in Australia and New Zealand on November 21, as revealed in a surprise Nintendo Direct tailored just for fans in those territories.
The Direct details the same enhancements touted when the New 3DS line was introduced for Japanese release, including the C Stick, improved 3D viewing angles through Super Stable 3D functionality, NFC capability, and additional processing power leading to increased graphical output and download speeds.
The hardware models shown in the Direct were the same as those presented in the New 3DS line's Japanese debut, with the standard New 3DS being a white system customizable via separately-purchased cover plates priced at $17.95. The XL is available in blue or black and is not customizable. The New 3DS will launch at $219.95, while the New 3DS XL will carry a $249.95 price tag.
Xenoblade Chronicles was announced for Japan as the first game to take advantage of the New 3DS line's improved specs and thus was revealed as the first exclusive for the new hardware. The game is slated to come to Australia and New Zealand in 2015.
While some might point to this news as evidence that New 3DS hardware will come to other western territories sooner rather than later, don't get your hopes up. The Direct's host, Nintendo Australia Managing Director Tom Enoki, was clear that there are no plans to release these systems in North America or Europe in 2014.
For more info on the New 3DS models, check out the Direct in its entirety below.