It doesn't come with the game, but look at those face plates!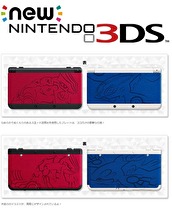 Pokémon Omega Ruby and Alpha Sapphire will have two special New Nintendo 3DS on the day the game launches in Japan.
One version comes with a Black New Nintendo 3DS and has special custom Groundon face plates. The other, a white New Nintendo 3DS, comes with plates features the Pokémon Kyogre. Next to the fancy face plates, both versions come with a theme download code.
Each of them will retail at 19.000 yen and you can order them at a Pokémon Center. An important note is that the system doesn't come with a copy of Pokémon Omega Ruby or Alpha Sapphire, which can be purchased also on November 21.