Want some Smash Bros. love on your 3DS? How about NES? Or Persona Q?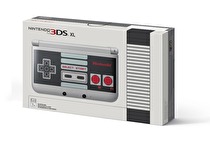 Four new special editions of the 3DS XL are coming to North America later this year, all for the price of $199.99 each.
The first two, coming out on September 19, are Super Smash Bros. 3DS XL systems that come in either a red or a blue variant. The systems do not come with a copy of Super Smash Bros. for 3DS, which is due out on October 3.
Coming on October 10, exclusively to GameStop, is the NES Edition 3DS XL, which features an NES controller design on the outside as well as red NES-style buttons. The limited edition hardware also comes in a box that looks like a NES console.
Lastly, a Persona Q Special Edition 3DS XL is coming exclusively to GameStop on November 25. This version features the design of the game's Grimoire as well as character art. It does not come with Persona Q, though it does launch on the same day as the game.
There is still no official word from Nintendo of America regarding the New 3DS and New 3DS XL, which are both coming out in Japan in October and are slated for a 2015 release outside of Japan.