UPDATE: Shiny Gengar is Now Available!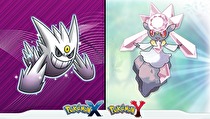 UPDATE: Shiny Gengar is now available. The official Pokemon Youtube channel posted a video to commemorate the occasion.
Beginning October 13, distribution events for both a Shiny Gengar and the mythical Pokémon Diancie are coming to the US.
The events will both be held at GameStop locations around the US with the Shiny Gengar event running from October 13 to October 26, and the Diancie event picking up the reins from October 27 until November 16. In order to get these special Pokémon, all players have to do is head to any GameStop store and pick up a code card.
This Shiny Gengar will be received at level 25 in a Dusk Ball and will come with a special move, Sludge Wave, and Gengarite for Mega Evolution. Many Japanese stores will also be distributing this special Pokémon to fans starting September 13 and ending October 14. A list of participating locations includes: Apita/Paigo, Ion, Ion SuperCenters, Ito-Yokado, Edion, Joshin, Toys 'R' Us, Bic Group Stores, Yamada Denki Group stores, Yodobashi Camera and the Pokémon Centers.
Diancie is an event-only Pokémon and will be transferable to the upcoming Hoenn remakes, Pokémon Omega Ruby and Alpha Sapphire, when they launch on November 21. Diancie will be able to Mega Evolve once trainers get a hold of Diancite in these new titles.