Now your 3DS, case AND home menu can match!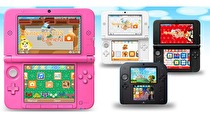 New custom themes for the 3DS home menu will be coming in a new update set to arrive this October. These themes will be available for purchase in a new Themes Store, which will be added to the eShop menu.
Themes will be based off of currently available and upcoming Nintendo titles and will customize the look, music and sound effects of the 3DS home menu. Custom themes from Animal Crossing, The Legend of Zelda: A Link to the Past and two general Mario designs have already debuted in the initial image released by Nintendo. Further details on pricing and a release schedule for these themes has yet to be announced.
Excited to put one of these new themes on a New 3DS model? Any Nintendo titles you'd like to see make the cut? Let us know in the comments.