It's a physical CD baby.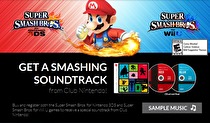 Club Nintendo members who register both the upcoming 3DS & Wii U versions of Super Smash Bros. will be sent a physical soundtrack for the games.
The soundtrack is called the Super Smash Bros. for Nintendo 3DS & Wii U: Premium Sound Selection. The set will come with two discs, one red and one blue. The red disc likely has music from the 3DS version, while the blue presumably has songs from the Wii U game. This color coding would match up with each versions official logo colors.
Nintendo promises that further details regarding this offer will be announced in the near future.