The first dozen amiibo figures have been revealed.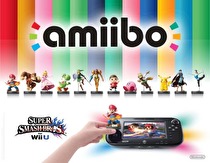 The first dozen amiibo figurines have been detailed for pre-order.
Mario, Peach, Link, Samus, Yoshi, Donkey Kong, Pikachu, Kirby, Fox, Marth, Villager and Wii Fit Trainer will be the first dozen figures made available. The first game to use the amiibo figures will be Super Smash Bros. for Wii U, slated for this holiday season. Other games that will feature amiibo support are Captain Toad: Treasure Tracker, Yoshi's Woolly World, Mario Kart 8 and Mario Party 10.
Each figure will be priced at $12.99. No launch date was listed, but the press release states that one is coming shortly.