There's no objection to investigative crossovers in this week's Downloads!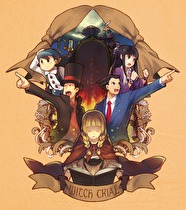 Summer is pretty much over now, so that's bound to mean that the Download is ready to come back to life, right? Vital signs seems to indicate there is indeed improvement. The biggest crossover since Sonic and Mario went to the Olympics leads this week in the Download as Professor Layton and Phoenix Wright team up for what is sure to be quite the investigative adventure.
On the Virtual Console front, there's Mega Man X3, which completes the trio of Mega Man X games for the Super Nintendo, as well as Donkey Kong Jr. Math, which made edutainment kind of cool in the 80s. Well, not really, but why insult this game when all it wants to do is educate. Check out this week's releases below!
Wii U Downloads
Wii U Virtual Console
Nintendo 3DS Downloads
Professor Layton vs Phoenix Wright: Ace Attorney
Thorium Wars: Attack of the Starfighter
Sales
Soccer Up is $1.99 through September 17.
Super Little Acorns is $3.95 through September 3.
Capcom is having a sale up to 60% off select Wii U and 3DS titles through September 4.