Miyamoto may be upending the casual tea table.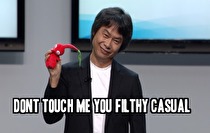 Shigeru Miyamoto commented on an intention for Nintendo to shift their focus away from casual gaming in an interview with Edge Magazine.
A Nintendo executive and the creator of Mario and Zelda, among other franchises, Miyamoto gave his thoughts on what he calls the "passive attitude" of casual gamers. He states that they take a stance where they say, "Okay, I am the customer. You are supposed to entertain me." He cites this attitude as being "pathetic" saying, "They do not know how interesting it is if you move one step further and try to challenge yourself [with more advanced games]."
Miyamoto says that today "because of the spread of smart devices, people take games for granted." He views it as a positive, due to its meaning to him of Nintendo no longer having to worry about making games "relevant to people's daily lives."