Rowan? More like growin'!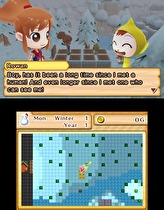 A new Harvest Moon game means more characters, and the first to be revealed is Rowan, a seemingly chipper Harvest Sprite. He's the first Harvest Sprite players will cross paths with in Harvest Moon 3D: The Lost Valley, as he'll guide you in the first part of the game.
Throughout the game, Rowan will develop a friendship with the main character, and will certainly come in handy. Rowan has the ability to use Harvest Sprite magic in order to grow hearty, bigger, and healthier crops.
Rowan also has another Harvest Sprite as a best friend, Blossom, but more details on her and other helpful characters are yet to be revealed. Check out a couple exclusive screenshots below!