With new and better features!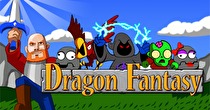 Dragon Fantasy Book I is on its way to the 3DS eShop, Muteki has announced. This episodic RPG series (reminiscent of original Dragon Quest and Final Fantasy titles) originally launched for iOS in 2011, and has since been improved and released on other platforms.
In this new 3DS version, developer Muteki has, for the most part, listened to fan feedback and are adding and updating features. Players will now have access to a quest log and an in-game map, and will be able to purchase multiple items simultaneously, as well as track how many enemies have been defeated with a bestiary. The inventory system has also been improved for sorting and filtering. These all will appear on the lower screen of the game. Additionally, the protagonist, Ogden, will have the ability to gain allies, meaning no more solo grinding.
Lastly, random battles have partially been removed. While they will still occur while travelling the world map, they have been altered in caves, towns, and dungeons to help with exploring. Monsters will still be scattered in these areas, but they will take a step when players take a step, leaving players with the option to evade, or even corner monsters.
Dragon Fantasy Book I will first launch on the North American 3DS eShop, and will follow Europe soon after, though no release dates have been mentioned.