These well-loved digital titles will be an on-disc twofer.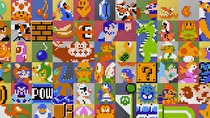 NES Remix Pack will release this holiday season as a physical bundle containing NES Remix and NES Remix 2, Nintendo announced at San Diego Comic-Con this year.
The package will be available in stores, though no price was mentioned in the announcement. Additionally, the first NES Remix is available for free to 2014 Club Nintendo Platinum Members until August 15.