It's Persona! On 3DS! and it is out this year! What more do you want?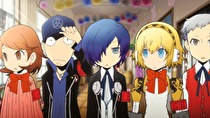 Persona Q: Shadow of the Labyrinth hits retail and the 3DS eShop on November 25 in North America.
Developed by a combination of both the Persona and the Etrian Odyssey development team, Persona Q features the characters of Persona 3 and 4 in an all new story. While it shares the same type of combat as the Persona games, the Etrian Odyssey elements sink in with its first-person dungeon crawling.
Just like other Atlus titles, the retail releases of Persona Q comes with some goodies if you pre-order it. The standard edition will offer up a tarot card set and come in "special packaging" for first run copies, priced at $49.99. "The Wild Cards" Premium Edition includes the tarot cards and its own "special packaging along with the soundtrack to the game on a CD, an art booklet, and a 3DS XL hard case". The premium edition will retail for $79.99.
This will be the first Persona game ever to be released on a Nintendo platform.