This week sees Strike Force Foxx, Comic Workshop, and Mr. Driller 2 alongside some choice sales.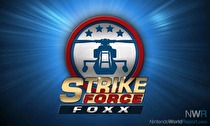 There are only three game releases across Nintendo's digital storefronts this week. Strike Force Foxx for 3DS leads the pack with its solid arcade-inspired action, though the comic creation utility Comic Workshop looks promising for budding artists. Mr. Driller 2, the latest Game Boy Advance release on Wii U's Virtual Console, got a middling score back when we reviewed it in 2006, but perhaps it's aged well. In any event, there are some nice sales going on with discounts on well-regarded titles like SteamWorld Dig and Little Inferno, so it's a good week to pick up some gems you may have missed.
Wii U Virtual Console
Nintendo 3DS Downloads
Sales
Little Inferno for Wii U is $4.99 now through 9 a.m. PT on July 24.
SteamWorld Dig for 3DS is $4.49 now through 9 a.m. PT on July 31.
Snow Moto Racing 3D for 3DS is $3.99 now through 9 a.m. PT on Aug. 21.
Atlus games on 3DS, including Shin Megami Tensei IV and Shin Megami: Devil Summoner: Soul Hackers, will be discounted from 9 a.m. PT on July 21 through 9 a.m. PT on Aug. 4.