There are more Pokémon up for grabs this August!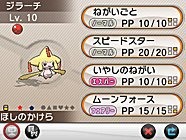 Pokémon trainers across Japan have the chance to grab two special Pokémon to enhance their experience in Pokémon X and Y this month.
As part of the annual Tanabata Festival, players who visit the Tohoku Pokémon Center have will the chance to grab their own Shiny Jirachi. It will be level 10 creature and will know the moves Wish, Swift, Healing Wish & Moonblast and hold a Star Piece to complete the package.
At all Pokémon Centers, trainers can also get a level 12 PokéBall Pattern Vivillon. It knows the moves Stun Spore, Gust, Lightscreen and Struggle Bug and will hold either Shield Dust or Compound Eyes. This is the same Pokémon that was given away in France as part of the temporary Pokémon Center there.
The Japanese public can get the special Vivillon through the entirety of August at Pokémon Centers or at the Pokémon Center Summer Festival, held from August 1st to the 18th.