Only 10 lucky winners will get one.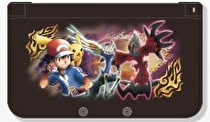 A new Pokémon themed 3DS LL will be awarded to only a handful of raffle winners in Japan.
The handheld's decal are based on the upcoming Pokémon movie, Diancie and the Cocoon of Destruction. To enter, you must spend over ¥1,000 at Denny's & Famil family restaurants from July 15 through August 25. Consumers will then receive a raffle code printed on their receipt to win one of these ten handhelds.
An additional five will be distributed through an e-mail campaign with the Japanese company Apaman.