We have some of the first prototype packaging images of Nintendo's upcoming Amiibo figures.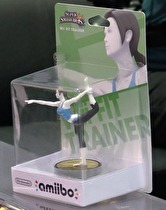 We have taken some of the first images of the prototype packaging for Nintendo's upcoming line of NFC figures known as Amiibo.
We managed to get prototype packaging pictures for Wii Fit Trainer, Pikachu, Kirby, Pit, Villager, and Princess Peach. Just please keep in mind, the back of these packages were completely blank, so you aren't missing anything there.
So do you like where Nintendo is going with the Amiibo packaging? Anything you wish they would change? Let's hear about it in the comments section below.